-36%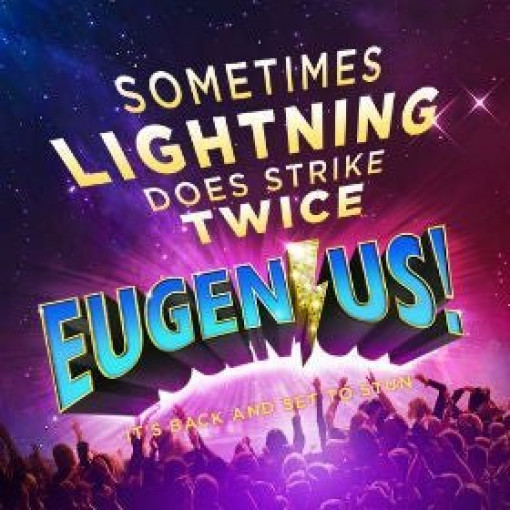 Eugenius! - The Eunique New Musical
Séances à partir de : samedi 1 septembre 2018

-


Séances jusqu'au : dimanche 21 octobre 2018
Description de Eugenius! - The Eunique New Musical
The wait is over…
"Eugenius!" – the best new musical for years, is here!
Come and be part of the world premiere concert performance at the London Palladium on 29th June 2016. With an incredible cast, led by Warwick Davis (Star Wars, Harry Potter),
and a host of award winning musical theatre names, it promises to be an unforgettable night and the perfect introduction to the next cult musical. Tickets are on sale now!
What's the show about?
Well, it's a classic love story between two kids – Eugene and Janey. She is mad on him, but he always has his head inside a comic book – so much so that he actually writes his own
comic about a superhero. Against the odds, Eugene's creations take him to Hollywood and he becomes the unlikely hero of his own intergalactic battle! Did we mention it's set in the
classic decade –the 80s?
With hit song after hit song and a brilliantly funny script "Eugenius!" is the musical you've been waiting for, even if you don't like traditional musicals!
Come and be the first to experience "Eugenius!" on the 29th June at the London Palladium.
Adresse du The Other Palace
12 Palace Street, London, SW1E 5JA (plus d'infos)
Itinéraire
Photos
Vidéo
Billets réduits pour Eugenius! - The Eunique New Musical
Economisez 36%
Normal 62,49€ Réduit 39,99€
Valid Tue-Sat from 1-8 Sep 2018. Book by 20 Aug.
Economisez 24%
Normal 45,49€ Réduit 34,49€
Valid Tue-Thu from 1-8 Sep 2018. Book by 20 Aug.
Economisez 15%
Normal 33,99€ Réduit 28,49€
Valid Tue-Sat from 1-8 Sep 2018. Book by 20 Aug.
Horaires